"Society sometimes deems people unproductive—not worth investing in," says Arjuna Paris O'Neal, "I had a lifetime of experiences that made me someone society normally would write off." Growing up amid trauma and violence on 7 Mile on Detroit's East side, Arjuna was exposed to drug and gang culture at an early age. By the time he was 17 he was running his own drug dealing operation—until a bullet threatened to end his life and he made a decision to change everything.
The Turning Point
Arjuna was paralyzed for over a year after a bullet severed his femoral artery. During his recovery, he was able to recognize the dehumanizing cycles of violence, fear, and hopelessness that he had experienced. He cultivated his faith and resilience by developing a sincere relationship with God, used yoga to strengthen his body, and harnessed the power of meditation to regain control over his mind in the present moment. He went on to return to his education and achieved his MBA in addition to becoming an E-RYT 500 Yoga Alliance certified instructor. But that was only the beginning of the deprogramming process.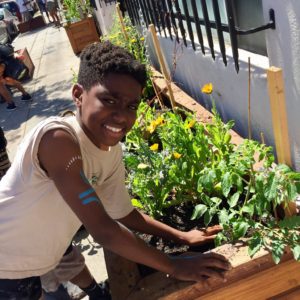 Share Necessities
With a newfound recognition of the injustice and genocide that plague communities like his, Arjuna set out to help people. He established a non-profit, Share Necessities, with a vision to empower individuals and families by providing the tools and resources to rebuild health, confidence, and transformation. Share Necessities brings health and wellness, mindfulness and life skills to young people in South Central L.A., and beyond. "The practice is universal, and the message is universal," he explains, "Pain, disparity, and lack of support—these things affect everyone. The formula can be implemented anywhere even though we do have a specific target audience."
The Target
Arjuna emphasizes that the words we use are important. His organization aims to break stereotypes. "It's important to recognize how something as simple as the words we use can classify people, separating rather than uniting us. Terms like 'underserved' or 'underprivileged' classify people as 'less than.' I mean, who isn't underserved in some way today?" Arjuna describes Shared Necessities' target audience as communities that lack resources, and aims to address the underlying issues that deprive them of the resources they need. "You put the resources there, and you'll see results." He speaks from experience.
Impact
Share Necessities is all about humans trying to help other humans. As the name suggests, they offer the basic necessities – healthy food, safety, and youth development programs (including mindfulness practices and various meditation techniques) that facilitate emotional intelligence, resilience, critical thinking and social responsibility. The goal is to create real change, break destructive cycles, and foster communities that are self-sustaining. "Mindful movements and breathing are powerful tools that allows us to breathe beyond those breaking points of despair, when we may be scared or overwhelmed. We can tap into those places and thoughts that usually trigger trauma, and work through them or at least identify where the shift needs to happen." Arjuna explains.
Studies show that children experiencing trauma and stress have a hard time learning, which makes sense. If the most basic necessities are not fulfilled, it's difficult to achieve other pursuits. Trust and protection allow us to address trauma while nurturing and honoring ourselves. Arjuna's own life and ability to relate to a wide range of experiences make him an effective guide as he helps others work through trauma to become their best selves.
Challenges
Sustaining the organization hasn't always been easy. "We wanted to create an organization focused on love in action and unity," he remarks, "but how do you get people to believe in a dream that's been painted a nightmare for so many generations?" Arjuna has come across many who are skeptical, who don't know what to believe in. "You have to become the answer. You have to live it. People aren't going to believe it because you have a nice website or Instagram, they're going to believe it because they know or feel connected to you. Because you live it to the core. So that's what I do."
Everyone involved in Share Necessities is there because they have a desire to see our youth prosper. Everything we offer is free for the community, and a free offering of skills by the volunteers who support the requests of the community.
What's next?
Share Necessities works in schools and neighborhoods to reach kids. As a parent, Arjuna can't help but see all kids when he looks at his own. "These are just innocent kids, searching for the way to go that has the must fulfillment," he says, "and when you see them grow, and learn who they are and what they're capable of—that's why we do this." Moving forward, Arjuna hopes to establish a working model that will bring the Share Necessities mission to other communities. "We're not here to reinvent the wheel. We're not promoting a secret sauce or 6 easy steps to happiness. We're literally trying to remind society of the core values we were blessed with that shape our humanity. Once we have the basic living essentials covered, it's easier to find our way."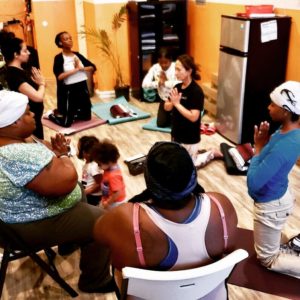 Learn more about Arjuna's journey and Share Necessities by visiting the website or connecting on Facebook or Instagram.
Rainier Fruit is truly honored to call Arjuna Paris O'Neal a Wholesome Hero.