Paul West is a Produce Sourcing Specialist at Sobeys. A produce industry veteran, he loves the rapid pace of working in perishable food, and the constant learning process. "You learn something new every day." He says, "It doesn't matter how much you think you know about this industry, there's always something to learn!"
Cycling
That passion for learning and jumping into new activities led Paul to his favorite hobby back in 2012. "I'm not a big fan of mountain biking, but I saw cyclists on the road in their colorful outfits and thought it could be fun." Paul bought a road bike, and has been cycling ever since.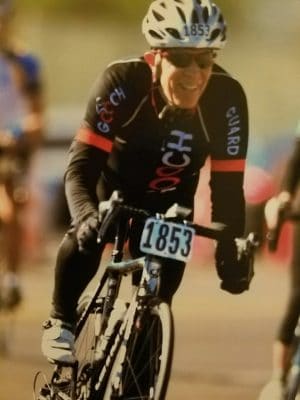 Charity Rides
Just having a healthy active lifestyle wasn't enough though. Paul is a passionate cyclist, but he also enjoys having a cause to support and using his passion to contribute to something larger than himself. He began seeking out charity rides, raising money to participate in them and supporting causes close to his heart, like MS research, diabetes research, and veterans. "I can ride anytime I want," he explains, "but the point of doing the charity rides is to raise money and awareness." Paul has friends and colleagues that have MS, so it's hugely important to him to support that cause. "It's awesome to ride for a person that you know." he remarks, "It really brings the cause home."
Paul emphasizes that he's not a professional or a serious competitor in any sense, but just truly enjoys cycling. Most of the sanctioned events he participates in are group rides, not races. For Paul, it's not about competition; it's all about taking the time to do something he enjoys while contributing to something bigger.
Special Moments
"The special moment is always just finishing!" Paul jokes. In his time cycling, Paul recalls many friends met while riding, and connections that began while participating in charity rides. "The really special thing," he relates, "isn't just the riders, it's the volunteers at the rest stops that make the ride possible. They're volunteering their time to stand there for hours and cheer on the riders. They're so encouraging and it's great to see them on the course. It's hugely motivating, so I try to thank every one of them. They're the real heroes."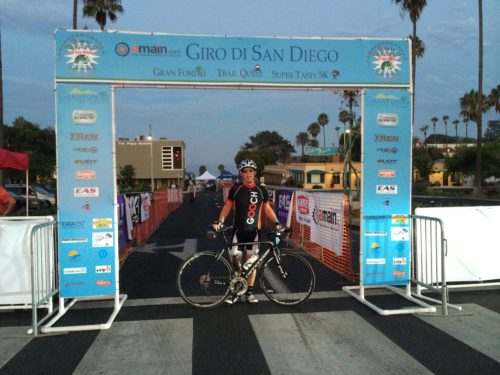 Favorite Ride
Cyclists always have their favorite course. For Paul, even though he's only completed the ride once, his favorite is the STP, or Seattle to Portland. It's a 2-day event that starts at the University of Washington and goes all the way down to Holladay Park in Portland, Oregon. Cyclists can choose to do the ride in one day or two (Paul opted to do it in 2 days in 2014). "It wasn't difficult so it didn't really put a big strain on me, but it was so much fun. Everyone thinks so—so it sells out every year!"
Advice
Paul is fortunate in that he has never had a serious spill. He's been hit by a car, but not hard enough to hurt him. His biggest piece of advice for other cyclists? Keep your eyes on the road. There are people out there that don't watch for cyclists, or don't like cyclists, and there are cyclists that give others a bad name. Paul has seen some bad spills, and even been on rides where people have lost their lives. "I'm so thankful that it's never happened to me," he says, "You've got to be aware that it could happen, but don't dwell on it. If you're afraid, you're not going to enjoy it. You've just got to keep focused on where you're going and your surroundings."
For Paul, cycling is a perfect combination of having fun and contributing to worthy causes. His passion is contagious when it comes to produce as well as cycling!
Rainier Fruit is truly honored to call Paul West a Wholesome Hero.